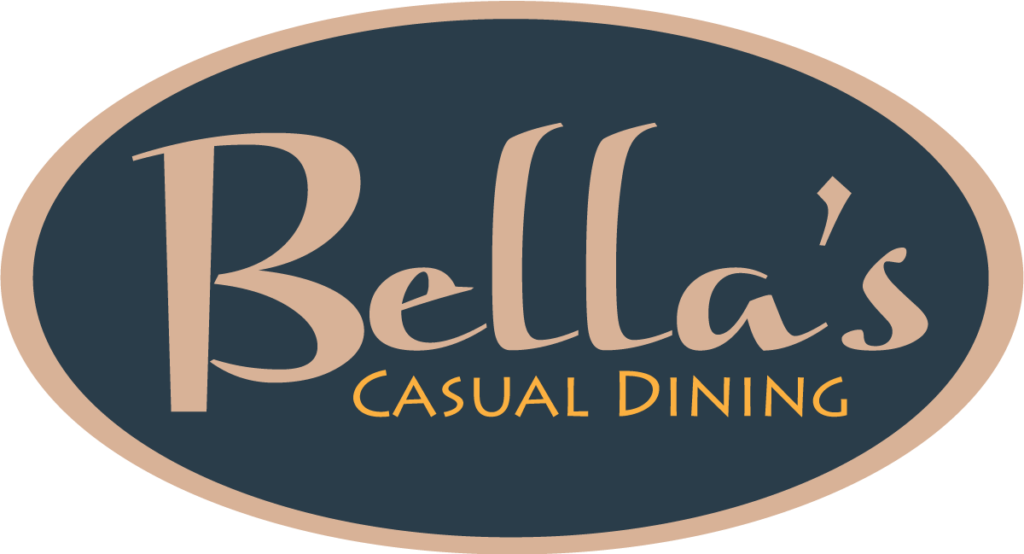 Come visit Bella's Casual Dining, our restaurant for business or casual dining. Serving outstanding food and drinks, it most certainly is the perfect spot to unwind from a day of travel. Featuring terrific soups and salads, seafood and other tempting specialties.
To view our menu, please click below:
Breakfast Menu
Breakfast Served 7am – 11am
Classic – $12
2 eggs, bacon or sausage, hash browns & toast
French Toast – $12
With choice of bacon or sausage, hash browns
Omelet – $14
Three egg omelet served with hash browns & toast
Veggie
Cheese
Western
Breakfast Sandwich – $10
One fried egg with bacon & cheese served on brioche bun & hash browns
(Above breakfast selections include coffee or tea)
Kids on the move – $6
Children under 12 years dining with parent
One egg, bacon, toast juice or milk
French toast, bacon, juice or milk
Cold Cereal & toast, juice or milk
Starters Menu
Starters
Bella's House Made Nachos  – $15
House made tortilla chips smothered in cheese, tomatoes, onion, peppers, our specialty caramelized onions and banana peppers, the sweet heat that made it a hit, served with salsa and sour cream.
Chicken Wings (1lb) – $15
Tossed in your choice of Mild, Medium, Hot, BBQ Sauce or Dry Spice. Served with ranch dressing and veggie sticks.
Onion Rings – $9
Crispy fried and served with chipotle aioli.
Mussels – $15
Steamed with white wine, roasted garlic and mirepoix, tomatoes, pepper and basil. Served with garlic toast.
Bacon Wrapped Scallops – $15
Pan seared with balsamic reduction and served with house made tartar sauce.
Soups & Salads
Soup of the Day – $7
Ask your server for today's homemade specialty. Served with a fresh roll.
Seafood Chowder – $12
A variety of your favourite seafood and vegetables offered in a rich creamy base.
Caesar Salad – $7 (Starter), $12 (Main)
Crisp romaine, creamy dressing, bacon, croutons and Parmesan cheese.
Add chicken +$5
Bella's Cobb Salad – $17
Filled with grilled chicken, crispy bacon, hard boiled eggs, cheese and an array of vegetables. Served with tortilla chips and creamy ranch dressing.
Main Menu
Sandwiches & Burgers
Bella's House Burger – $16
Juicy homemade beef patty, charbroiled and stacked with lettuce, tomato, bacon, dill pickle, red onion, bacon and cheese. Garnish with your choice of ketchup, mayo, mustard and house made relish. Served on a Brioche bun.
The Alexander – $17
House made Veggie burger, pan seared and finished with a peanut sauce on a brioche bun paired with sweet potato fries.
Ya Gotta Ciabatta Clubhouse – $16
Grilled chicken, crisp bacon, lettuce, tomato, and red onion on a Ciabatta bun.
Ya Gotta Ciabatta Grilled Cheese – $14
A Ciabatta bun grilled with cheddar, mozza and Monterey cheese, tomato, caramelized onion and crisp bacon.
All sandwiches come with your choice of: house cut fries, garden salad, Caesar salad or soup of the day.
Substitute Sweet potato fries +$3
Pastas
Maple Curry Chicken Linguine – $18
Our signature dish. We cannot give away the secret!
Seafood Linguine – $22
Atlantic salmon, cod, shrimp, scallops and mussels in a rich creamy sauce. Served with garlic toast.
Chicken Parmesan – $20
Breaded chicken breast topped with marinara sauce and mozzarella cheese and served on a bed of linguine noodles. Served with garlic toast.
Land & Sea
Pan Fried Cod – $22
Cod fillets pan fried to perfection. Served with scrunchions and house made tartar.
Fish & Chips – $17
Two pieces of lightly battered and deep-fried cod fillets. Served with our house cut fries and coleslaw.
Add dressing and gravy +$3
Salmon – $24
A teriyaki glazed salmon fillet. Your choice of grilled or pan seared.
Ribs ʻn Wings – $24
Half rack of slow braised pork ribs; grilled and finished with smokey BBQ sauce. Accompanied with five zesty wings that are tossed in your choice of: Mild, Medium, Hot or BBQ Sauce or Dry Spice.
New York Striploin (10oz) – $26
Striploin, marinated and charbroiled to your specification.
Add mushrooms and onions +$1.50 each
Stir Fry – $15
Stir fried vegetables in your choice of a teriyaki or honey garlic sauce on a bed of basmati rice.
Add Chicken or Beef +$5
Land & Sea mains (except Stir Fry) come with your choice of:
Potato, Garden salad, Caesar salad and Seasonal vegetables.
Substitute Sweet potato fries +$3
Hours
Monday: 7:00 AM – 2:00 PM & 5:00 PM – 8:00 PM
Tuesday: 7:00 AM – 2:00 PM & 5:00 PM – 8:00 PM
Wednesday: 7:00 AM – 2:00 PM & 5:00 PM – 8:00 PM
Thursday: 7:00 AM – 2:00 PM & 5:00 PM – 9:00 PM
Friday: 7:00 AM – 2:00 PM & 5:00 PM – 9:00 PM
Saturday: 7:00 AM – 2:00 PM & 5:00 PM – 9:00 PM
Sunday: 7:00 AM – 2:00 PM & 5:00 PM – 8:00 PM